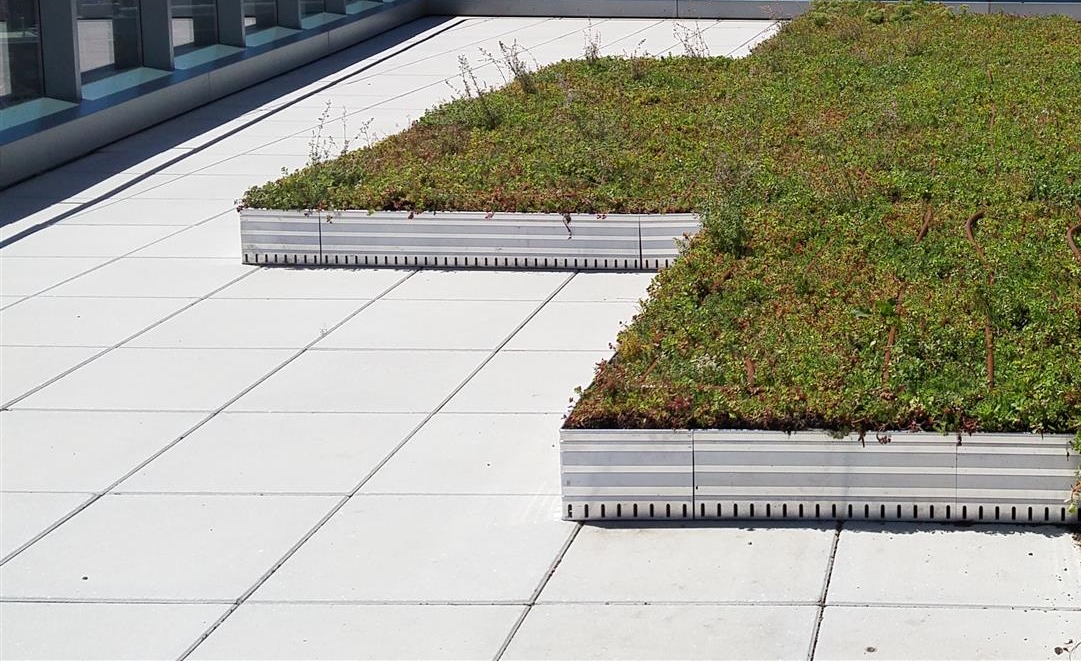 Edge Treatment
Decorative edging for those where modules are cut-to-fit
Standard Edge Treatment: 0.040 Painted Aluminum (recycled content 91%) or 24-gauge Painted Steel (recycled content 28 to 35%) for placement on viewable edge of modules. Variety of color templates available.
Edge Treatment is to be used on the cut side of modules to retain growing medium and vegetation when custom cutting/fitting modules: 0.040 Painted Aluminum (recycled content 91%) or 24-gauge Painted Steel (recycled content 28 to 35%).
Flexible HDPE Edge Treatment
Pavers
Ipe and Itauba Wood Tile Pavers
Ipé and itauba tile pavers are available in 2-ft x 2-ft dimension for easy design incorporation. These deck paver tiles are manufactured from two hardwood species that are some of the most stable and durable timber species available, lasting decades with minimal maintenance. They both resist wear, rot, splintering, termites, fire, and chemicals. Ipe is a widely used wood in outdoor applications including boardwalks, furniture, and piers, and itauba offers a lower cost option with similar appearance and performance. Both provide low maintenance, smooth surfaces, and attractive, natural weathered color if left unsealed. Adjustable and fixed height pedestals with specialized heads for connecting to the wood tiles are available. They can also be installed over standard pedestal options. GreenGrid features wood pavers by Timber Holdings USA, the leading brand of durable wood products with experience including the Atlantic City Boardwalk.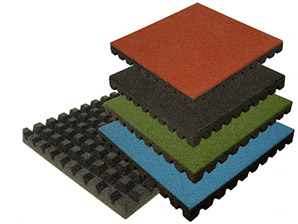 Recycled rubber pavers
Rubber pavers allow you to provide your green roof with a softer more resilient and brighter colored option, great for schools and other locations where safety surfacing is of paramount importance. These pavers come in the standard dimension of 2 ft x 2 ft to fit seamlessly into the GreenGrid field and are available in multiple depth increments between 1.75 inches and 4 inches to meet all design needs. Pavers come in interlocking and non-interlocking varieties with standard and vivid color options.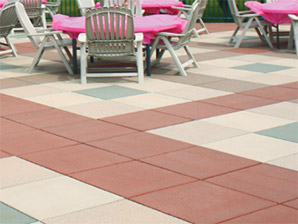 Pressed Concrete Pavers
The classic selection for rooftop hardscapes, pressed concrete pavers offer a durable, low maintenance, and reliable surface for incorporating a plaza, deck, or other accessible space into your green roof. Available in standard dimensions of 2'x2'x2" (nominal) along with custom sizes in a host of colors and textures, you can complement your GreenGrid installation and enhance the functionality of your space. Pavers are available in multiple grades to meet your design and budget goals – ranging from utility grade for maintenance access to standard grade in matte, slate and brickface textures, to architectural grade in a beautiful quarry finish. GreenGrid features pressed concrete pavers by Sunny Brook Pressed Concrete, along with coordinating adjustable and fixed height pedestal options. Custom orders can be ready to ship in as little as 3 weeks.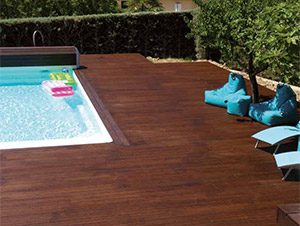 Renewable Wood Decking Options
Fused Bamboo Decking and Tile Pavers
As an alternative to hardwood pavers, fused bamboo decking offers a beautiful alternative, particularly when the tile look doesn't match with your overall design intent. This thermo-treated bamboo product offers more stability than hardwood, and easy installation with tongue and groove planking and no-gap connections. Bamboo decking can be installed over joists or over an aluminum subframe compatible with adjustable pedestals. The same bamboo product is also available in a deck tile format. GreenGrid features fused bamboo decking by MOSO, one of the word's leaders in this material. Bamboo deck tiles are by Bison, another household name in quality hardscapes.