Customized Options
Customized Modules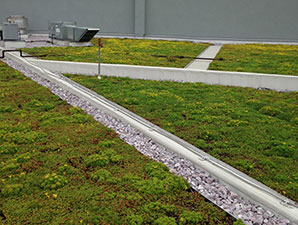 GreenGrid modules can be cut to size and shaped as necessary to fit odd dimensions, angles, or arching spaces. When a design indicates customization of modules, WESTON will include a few additional empty modules as part of the package. We'll pre-grow the overall square footage needed, but will use the empty modules to make the odd dimensions, angles, or arching spaces. The vegetation and growth media from the pre-vegetative modules will then be transplanted into the customized modules to complete the installation. This is a much easier and less destructive method than cutting pre-vegetated modules, which other companies advertise.
The cut side of the module will face the outward side of the modular array and be enclosed with our bendable edge treatment to contain the growing media.
Customized Plants and Urban Agriculture
The GreenGrid system has been utilized for food production in installations across the US. It can successfully support a wide range of herbs and vegetable crops with appropriate maintenance and modified soils. Some examples are listed below.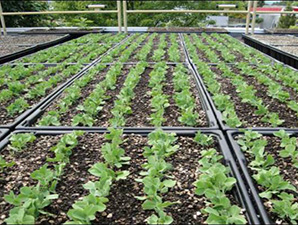 Trillium Charter School , Portland, OR
"This project is a perfect example of a multi-functioning green roof where you not only have storm water management, but also a space designated for food production. Students are educated about sustainability and the numerous benefits of green roofs. (Courtesy Edible Skylines, LLC – Erin Altz)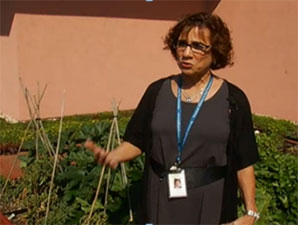 Daybreak Youth Homeless Shelter, Dayton, OH
"Our goal is to not just give them a safe place to live, but also a safe place to grow and mature and become healthy adults and taxpaying citizens," said Linda Kramer, Daybreak's CEO. To reach that goal, the shelter is using a rooftop garden. Kids can go work among the plants; therapy for many, as well as lessons in nutrition and self-esteem. (Courtesy wdtn.com)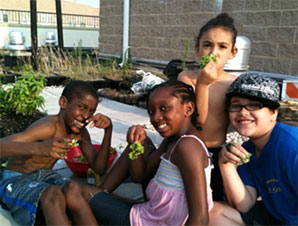 Women's Housing and Economic Development Co. / Intervale Green, Bronx, NY
Sponsored by WHEDco, this farm serves as a way for residents to learn how to plant seeds, properly harvest produce, compost and cook healthy meals.
In 2010 the roof underwent a transformation. About half of the extensive modules on one roof area were removed and replaced with 8 inch deep modules which were then filled with acceptable growing soil. After the roof was reconfigured for farming, it was already mid summer. However, an astonishing 136.41 lbs of produce were still harvested in the late summer and fall. (Courtesy WHEDco)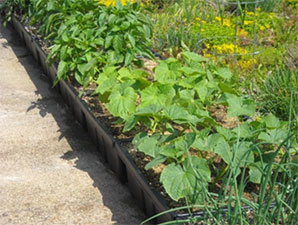 Private Residence, Northern IL
This private residence has successfully experimented with a wide range of food crops, and played an integral role in honing the recommended list of plants for food production in the GreenGrid System.